Patriot N95 Mask in Stock – NIOSH Certified – Made In USA – Teal Cup – Reg. (Box of 25)
KEY FEATURES:
P

rotects against harmful particles: mold, pesticides, allergens, and dust

99% BFE (Bacterial Filtration Efficiency) according to ASTM F2101

Patriot Mask Proudly made in Bryan, Ohio, USA (Materials and Assembly) 

Adjustable galvanized metal nose clip provides custom fit
Spandex nose sponge bar allows for all day comfort
No breathing value (to prevent droplet spread)
Dual nylon elastic headbands for secure seal
Small Size suitable for women and children
Very lightweight for extended comfort
Compatible with a variety of eyewear
Completely LATEX FREE construction
Preformed molded cup shape
ALG Health – Patriot Mask – N95 Surgical Respirator – American Made – Teal Model
REGULAR SIZE
Manufacturer Part Number = PT-N95C-06
NIOSH N95 Approval Number = TC-84A-9281
SMALL SIZE
Manufacturer Part Number = PT-N95CS-06
NIOSH N95 Approval Number = TC-84A-9280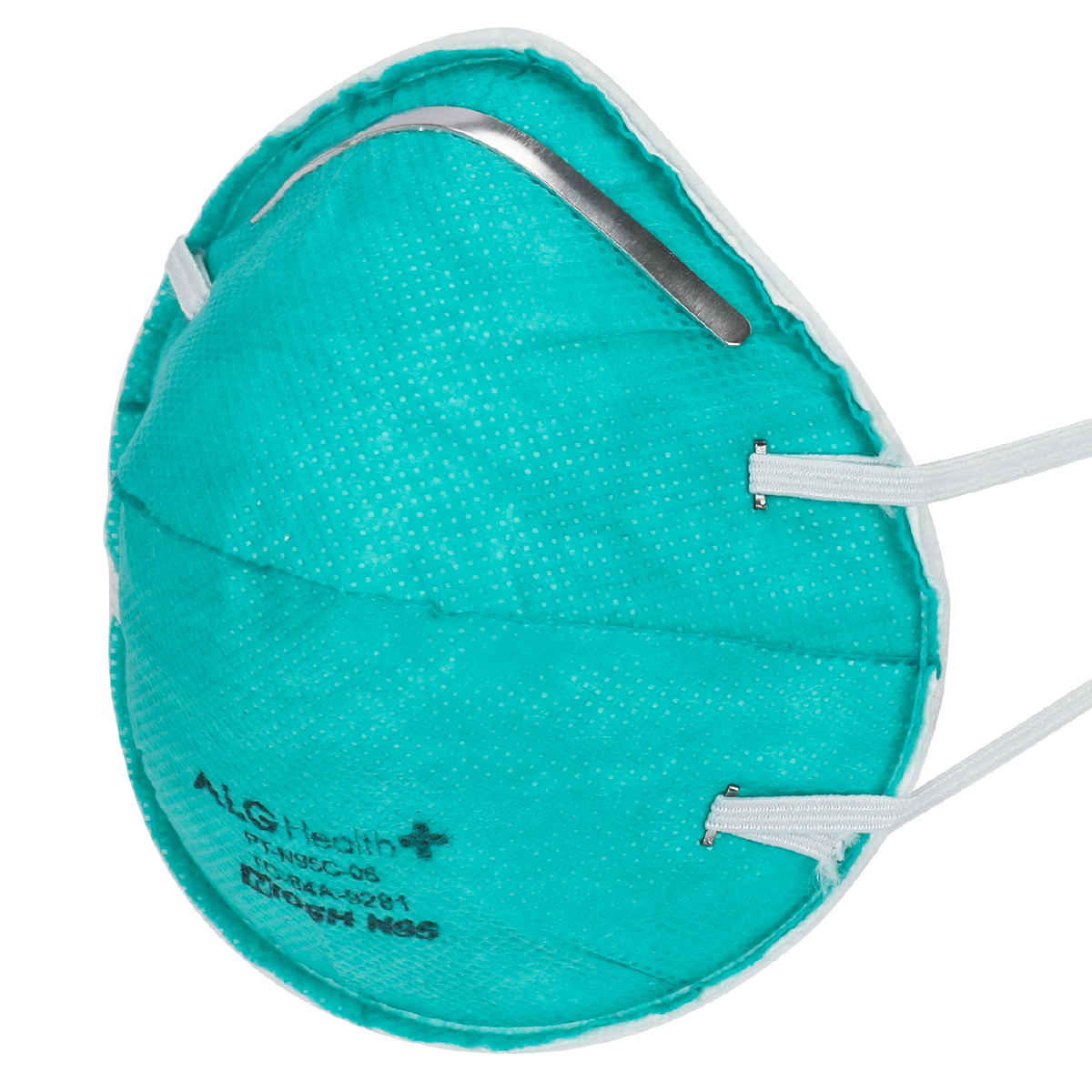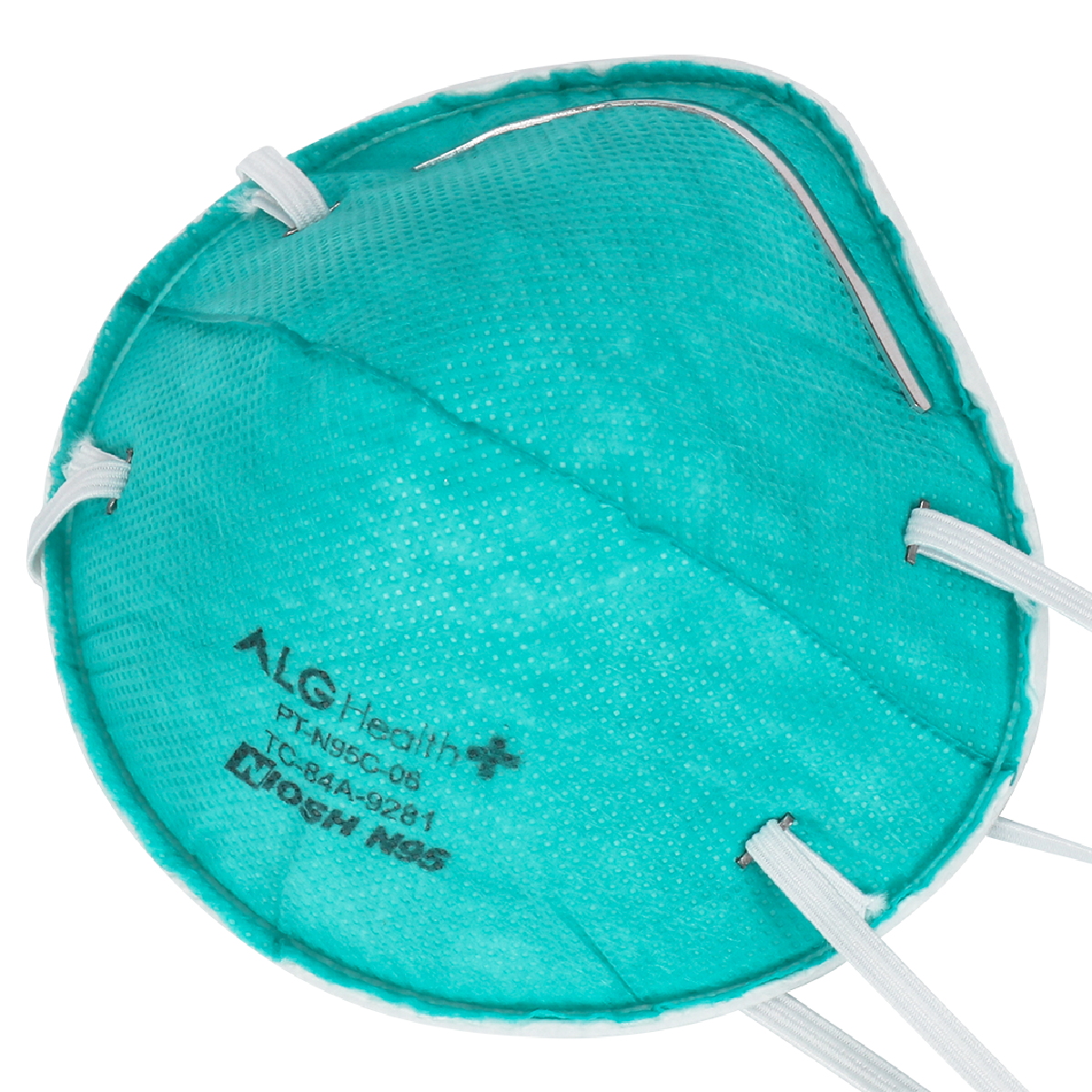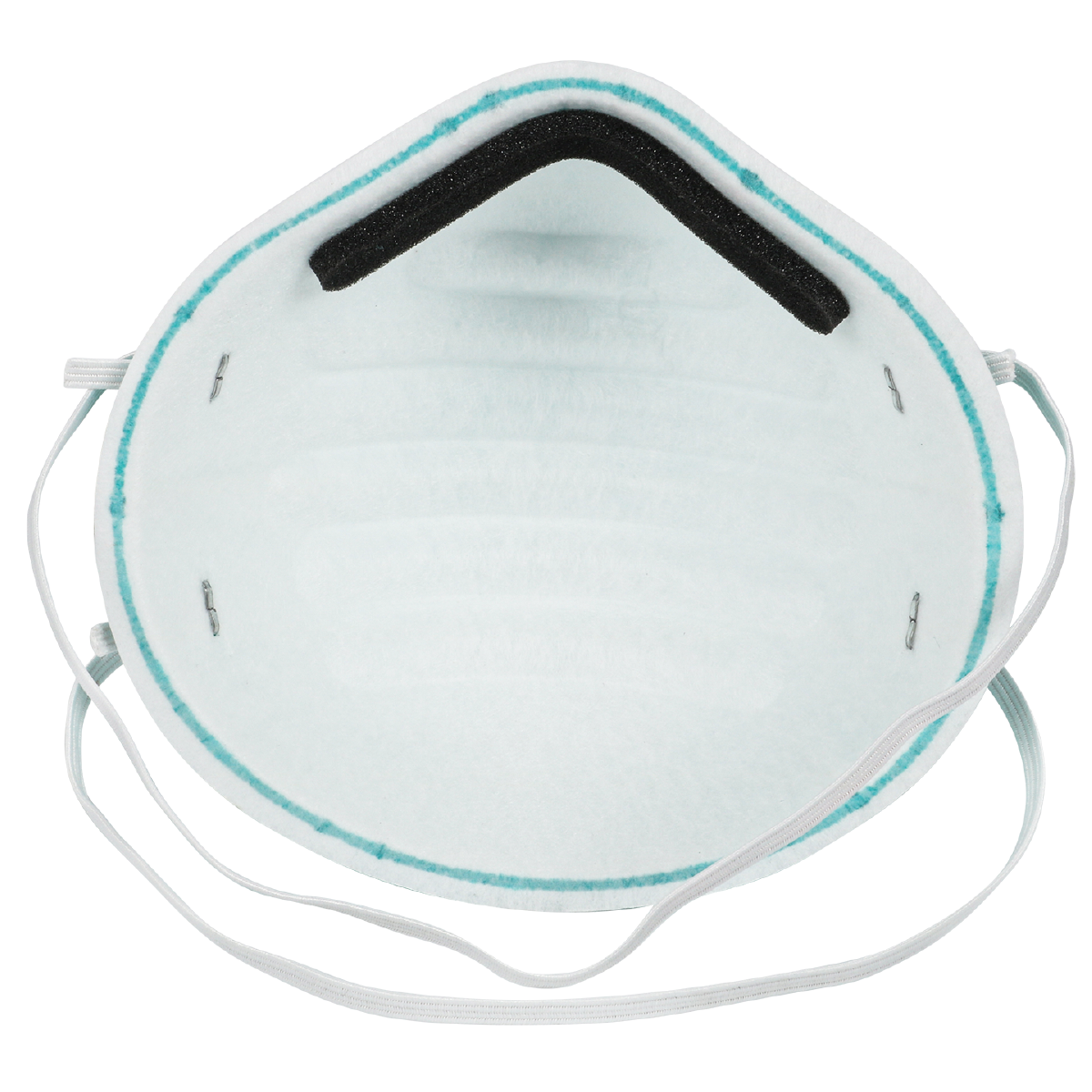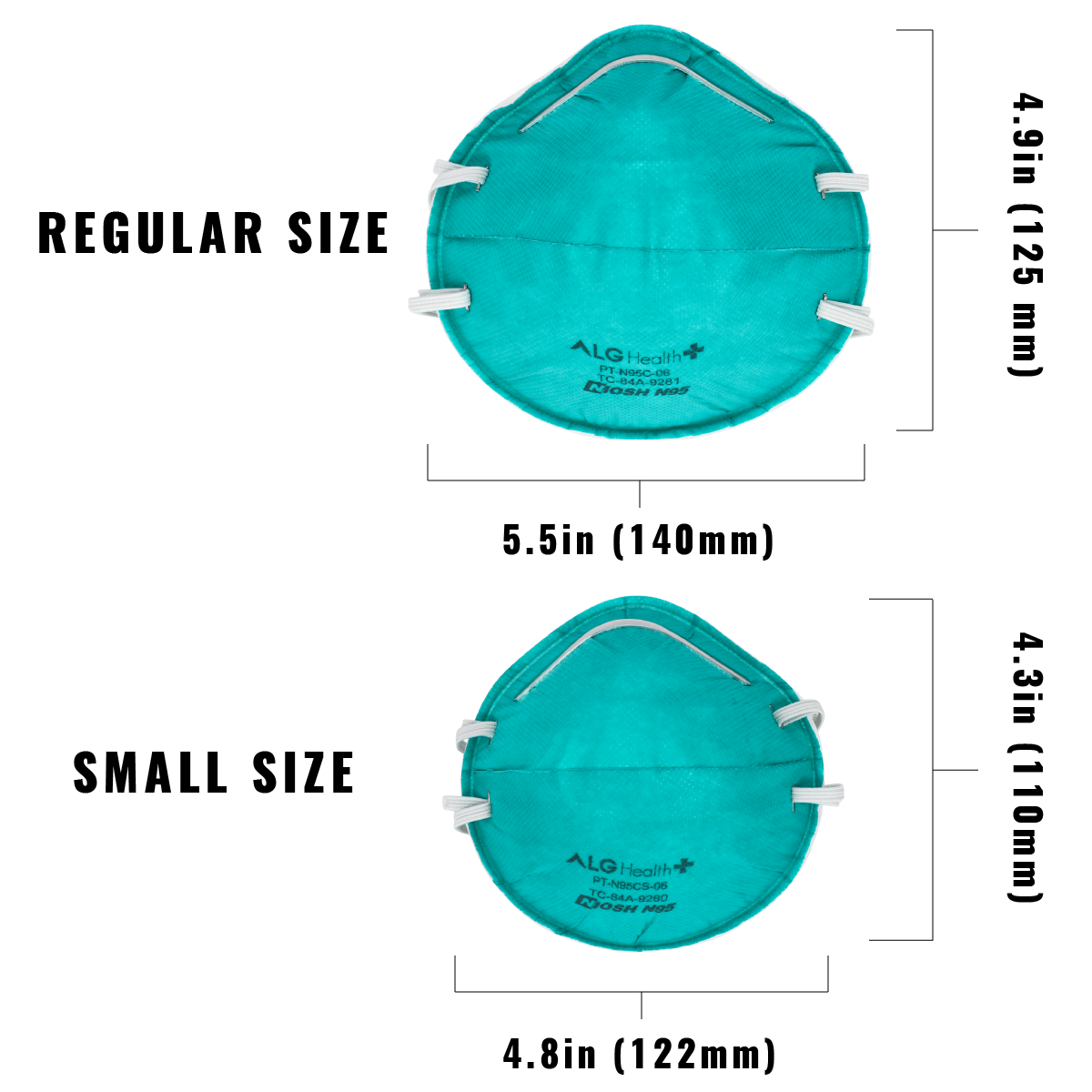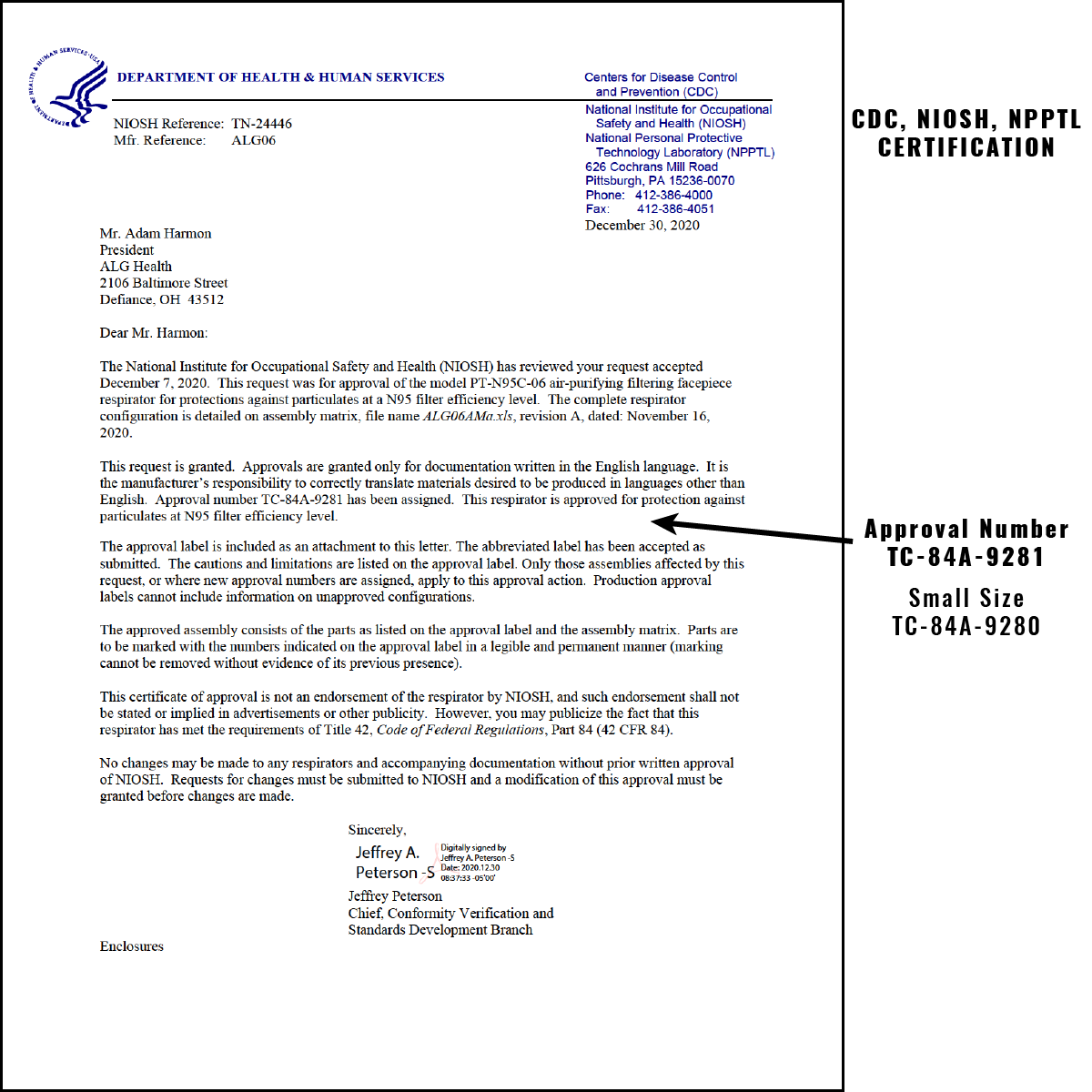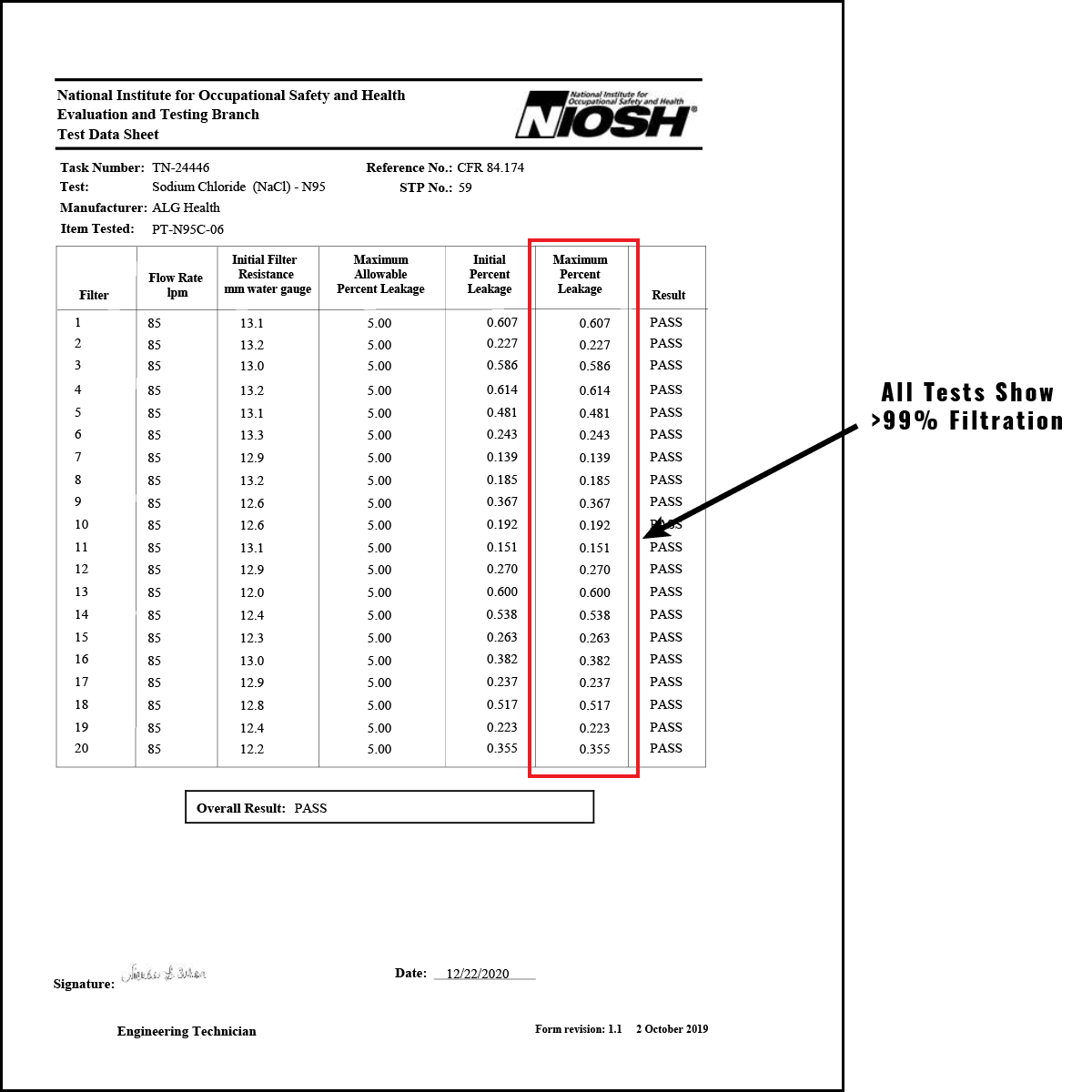 ALG Health Patriot Masks are healthcare surgical N95 respirator masks designed to provide excellent respiratory protection for the wearer. Each Patriot Mask meets CDC, FDA, and NIOSH guidelines for exposure control. As a disposable particulate respirator, it is intended to reduce wearer exposure to harmful conditions and provide protection of at least 95 percent filtration efficiency against certain non-oil-based airborne particles.
Patriot Masks are certified for effective respiratory protection during activities such as sanding, sawing, grinding, sweeping, dry-wall sanding, woodworking and working with fiberglass insulating particles. They are also effective protection against particles such as mold, granular pesticides, allergens, and dust.
MANUFACTURING DETAILS
At ALG Health, we source all of our respirator masks directly from each mask manufacturer. We do not use middlemen or agents to obtain respirators. Furthermore, we keep a record of each Bill of Lading for every respirator shipment that is sent from the manufacturer to our distribution facilities. SureWay Health is an authorized distributor of every respirator brand that we offer for sale. 
Our quality verification team also regularly visit manufacturers to inspect their production methods and quality control procedures. Here are several images from our team's last manufacturer visit to ALG Health's facility in Bryon Ohio:
 CERTIFICATION DETAILS
• Meets NIOSH Title 42, Code of Federal Regulations, Part 84 (42 CFR 84)
• 99% BFE (Bacterial Filtration Efficiency) according to ASTM F2101
• 99.7% Overall Filter Efficiency according to ICS Laboratories Inc.
• Meets NIOSH inhalation procedure testing TEB-APR-STP-0007
• Berry Amendment (10 U.S.C. 2533a) compliant
Approved N95 respirator masks must pass three separate performance evaluation tests conducted by the National Personal Protective Technology Laboratory (NPPTL) which is part of the National Institute for Occupational Safety and Health (NIOSH) part of the US Center for Disease Control (CDC). 
The NPPTL and NIOSH then provide a letter of certification to the manufacturer (ALG Health) describing how the specific model passed the required tests and can be publicized as an N95 respirator meeting the requirements of NIOSH Title 42, Code of Federal Regulations, Part 84 (42 CFR 84). The following is the certification letter for the regular size version of this Patriot Mask model PT-N95C-06:
The CDC publishes a detailed list of certified N95 respirators on their website and gives the approval numbers for each. The table of NIOSH-Approved N95 respirators is listed alphabetically by manufacturer. Below is a screenshot of this table showing the approval numbers for the regular size (TC-84A-9281) and small size (TC-84A-9280) of the ALG Health cup-shaped Patriot Masks. To find them, please visit the following link and scroll 1/4th of the way down the webpage. 
https://www.cdc.gov/niosh/npptl/topics/respirators/disp_part/N95list1-a.html
 To be listed on this website the respirator must pass these three standard performance evaluation tests
• TEB-SPR-STP-0003 = Exhalation Resistance Test
• TEB-SPR-STP-0007 = Inhalation Resistance Test
• TEB-SPR-STP-0059 = Sodium Chloride (NaCl) N95 Test
The following shows the overall results of the Test Report given in the NIOSH certification letter for this model. Also shown are the detailed results of the N95 NaCl filtration test for every respirator sample tested. To obtain the total particulate filtration capacity subtract the "Maximum Percent Leakage" from 100%. For example, a respirator sample with a Maximum Percent Leakage of 0.500 would provide 99.5% filtration.
PRODUCT DETAILS
MATERIAL COMPOSITION
Spandex Filament Sponge Bar Nose Foam Pad

1mm Thick Galvanized Iron Nose Clip

Soft-woven Elastic Nylon Headbands

Glue-free Odorless Ultrasonic Headband Welding
Five Total Mask Layers:
Outer Layer 1 = Spun bound cloth non-woven fabric

Filter Layer 1 = Melt-blown non-woven electrostatic fabric

Filter Layer 2 = Melt-blown non-woven electrostatic fabric

Inner Layer 1 = Needle punch soft stretchable cotton

Inner Layer 2 = Needle punch soft stretchable cotton 
USE THIS RESPIRATOR FOR
Medical clinics and operating rooms

Infection control requirements

Emergency planning and preparedness

Laboratory procedures
DO NOT USE THIS RESPIRATOR FOR
For atmospheres less than 19.5% oxygen

For gases and Vapors, including oil aerosols, etc.

For repeated use following NIOSH guidelines

If modified or used for its unintended purpose

> Expiration date of 3 years after manufacture date (Bottom of Box)
FITTING INSTRUCTIONS
1 – Hold the respirator in hand and with the nosepiece at your fingertips. Allow headbands to hang freely below hand. 
2 – Wear the respirator firmly against your face with the nosepiece on the bridge of your nose.
3 – Stretch and pull the lower headband over the head and position below your ears. Stretch and pull the top headband on the back of your head above your ears. 
4 – Press soft metal to conform snugly around your nose. 
5 – Seal Check
• To test the fit of a respirator without an exhalation valve, cup both hands over the respirator and exhale sharply. 
• If air flow is felt in the nose area, re-adjust/tighten the nose clip.
• If air flow is felt around the edges of the respirator, re-position the respirator or head straps to achieve a better fit. 
6 – Change the mask immediately if breathing becomes difficult or mask becomes damaged or distorted. 
7 – Change the respirator if a proper face seal cannot be achieved
8 – Carful observance of these instruction is an important step in sale respirator use. 
WARNING: These respirators help reduce exposures to certain airborne contaminants. Before use, the wearer must read and understand the User Instructions provided as a part of the product packaging. In the U.S., a written respiratory protection program must be implemented meeting all the requirements of OSHA 1910.134 including training, fit testing and medical evaluation. In Canada, CSA standards Z94.4 requirements must be met and/or requirements of the applicable jurisdiction, as appropriate. Misuse may result in sickness or death. For proper use, see package instructions.
Shipping
Standard shipping can take 5 to 7 business days from 5pm EST on the date your order is placed and paid.

We currently do offer expedited shipping. Currently we do not ship to PO Boxes or APO/FPO.

We warrantee and represent that the goods are as described in the above listing. We specifically disclaim any implied warranties of title, merchantability, fitness for a particular purpose and non-infringement. Customers should satisfy themselves that any item choice made is suitable for their intended purpose or use. We pride ourselves on our customer service. In the rare event that you have a problem with your item please contact us and we'll be happy to help.
SureWay Health is a company born from a scrappy entrepreneurial spirit. When the pandemic struck the United States, we could not just sit idly by, so we used our expertise and warehouse locations in Detroit and Chicago to begin distributing large quantities of PPE to those who needed it most. We are distribution experts who quickly mobilized our existing supply chains to help alleviate the national shortages.
The #1 goal of SureWay Health has always been to keep hospitals stocked with the masks they need. We were 100% dedicated to solving these shortages from March to October of 2020. Now we have begun to also provide the general public with masks for everyday use. We found that the two supply chains are not mutually exclusive. They are jointly beneficial. Here is how:
Consumer demand allow us to place larger orders with the manufacturer, which gives us priority in their shipping queue. By offering the product to you we are able to maintain a constant level of production at the factory level, which evens out large swings in the medical ordering process. We will also have more inventory readily available when medical customers call.
In under a year, we have delivered over 3 million N95 respirators to health systems here in the Midwest and customers like you. Now our goal is to help small businesses across the country stay safe. We believe the key to re-opening and reviving the economy is proper protection.